Now I've been able to read a fair bit more recently, I think it's time to re-start my monthly challenge to read at least 8 books. So here is my 8 books I plan to read in March!
When Gav and Lou move into the house next door, Sara spends days plucking up courage to say hello. The neighbours are glamorous, chaotic and just a little eccentric. They make the rest of Sara's street seem dull by comparison.
When the hand of friendship is extended, Sara is delighted and flattered. Incredibly, Gav and Lou seem to see something in Sara and Neil that they admire too. In no time at all, the two couples are soulmates, sharing suppers, bottles of red wine and childcare, laughing and trading stories and secrets late into the night in one another's houses.
And the more time Sara spends with Gav and Lou, the more she longs to make changes in her own life. But those changes will come at a price. Soon Gav and Lou will be asking things they've no right to ask of their neighbours, with shattering consequences for all of them…
This book simply sounds fascinating, the synopsis instantly caught my attention.
This Love
by Dani Atkins (Released March 23rd 2017)
Sophie Winter lives in a self-imposed cocoon – she's a single, thirty-one year old translator who works from home in her one bedroom flat. This isn't really the life she dreamed of, but then Sophie stopped believing in happy endings a very long time ago, when she was fifteen years old and tragedy struck her family. Her grief has left her scared of commitment and completely risk averse, so she plays it safe and keeps everyone at arm's length. Sophie understands she has a problem, but recognising it and knowing how to fix it are two entirely different things.
One night a serious fire breaks out in the flat below hers. Sophie is trapped in the burning building until a random passer-by, Ben, luckily happens to spot and rescue her. Suddenly her cocoon is shattered – what will be the consequences of this second life-changing event?
Loved 'Our Song' so much, it was inevitable I would pick this up sooner rather than later!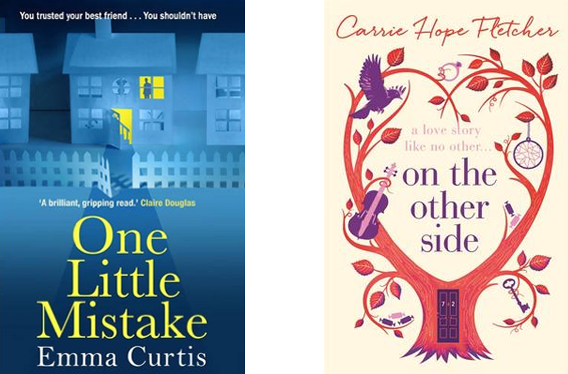 YOU TRUSTED YOUR BEST FRIEND . . . YOU SHOULDN'T HAVE.
Vicky Seagrave is blessed: three beautiful children, a successful, doting husband, great friends and a job she loves. She should be perfectly happy.
When she makes a split-second decision that risks everything she holds dear, there's only person she trusts enough to turn to.
But Vicky is about to learn that one mistake is all it takes; that if you're careless with those you love, you don't deserve to keep them…
This book is going to feed my need for thriller's I've been feeling recently.
Evie Snow is eighty-two when she quietly passes away in her sleep, surrounded by her children and grandchildren. It's the way most people wish to leave the world but when Evie reaches the door of her own private heaven, she finds that she's become her twenty-seven-year-old self and the door won't open.
Evie's soul must be light enough to pass through so she needs to get rid of whatever is making her soul heavy. For Evie, this means unburdening herself of the three secrets that have weighed her down for over fifty years, so she must find a way to reveal them before it's too late. As Evie begins the journey of a lifetime, she learns more about life and love than she ever thought possible, and somehow , some way, she may also find her way back to her long lost love…
I've wanted to read this one for a while, sounds magical.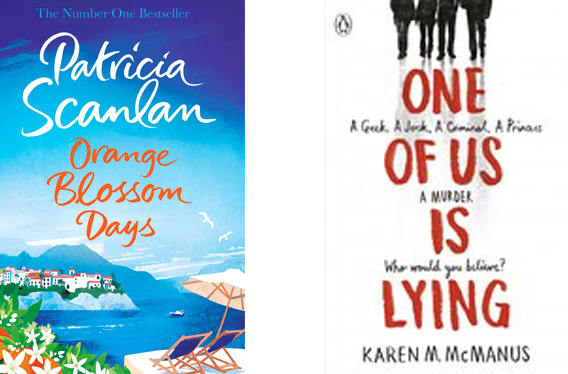 In a beautiful southern Spanish town, where the sea sparkles and orange blossoms scent the air, the gates of a brand new apartment complex, La Joya deAndalucía, glide open to welcome the new owners.
Anna and Austen MacDonald, an Irish couple, are preparing to enjoy their retirement to the full. But the demands of family cause problems they have never foreseen and shake their marriage to the core.
Sally-Ann Connolly Cooper, a feisty Texan mother of two young teenagers, is reeling from her husband's infidelity. La Joya becomes a place of solace for Sally-Ann, in more ways than one.
Eduardo Sanchez, a haughty Madrileño, has set out with single-minded determination to become El Presidente of the complex's management committee. But pride comes before a fall.
Jutta Sauer Perez, a sophisticated German who aspires to own her very own apartment in La Joya, works hard to reach her goal. Then the unthinkable happens.
As their lives entwine and friendships and enmities develop, it becomes apparent that La Joya is not quite the haven they all expect it to be…
Hopefully this gets me in a summery mood unlike the weather out there right now. It sounds wonderful, and with multiple viewpoints, just my sort of book.
On Thursday afternoon, five students at Bayview High walk into detention.
Bronwyn, the brain, is Yale-bound and never breaks a rule.
Addy, the beauty, is the picture-perfect homecoming princess.
Nate, the criminal, is already on probation for dealing.
Cooper, the athlete, is the all-star baseball pitcher.
And Simon, the outcast, is the creator of Bayview High's notorious gossip app.
Only, Simon never makes it out of that classroom. Before the end of detention, Simon's dead. And according to investi­gators, his death wasn't an accident. On Thursday, he died. But on Friday, he'd planned to post juicy reveals about all four of his high-profile classmates, which makes all four of them suspects in his murder. Or are they just the perfect patsies for a killer who's still on the loose?
Everyone has secrets, right? What really matters is how far you would go to protect them.
I know this is not out for ages, but It sounds soooooo good!
The Escape
by C. L. Taylor (Released March 23rd 2017)
When a stranger asks Jo Blackmore for a lift she says yes, then swiftly wishes she hadn't.
The stranger knows Jo's name, she knows her husband Max and she's got a glove belonging to Jo's two year old daughter Elise.
What begins with a subtle threat swiftly turns into a nightmare as the police, social services and even Jo's own husband turn against her.
No one believes that Elise is in danger. But Jo knows there's only one way to keep her child safe – RUN.
I've Loved C. L. Taylor's other books, and by the first chapter I snuck a look at last night, this one's going to be just as good
They tell me that my memory will never be the same, that I'll start forgetting things. At first just a little, and then a lot. So I'm writing to remember.
Sammie was always a girl with a plan: graduate at the top of her class and get out of her small town as soon as humanly possible. Nothing will stand in her way–not even a rare genetic disorder the doctors say will slowly start to steal her memories and then her health. What she needs is a new plan.
So the Memory Book is born: Sammie's notes to her future self, a document of moments great and small. It's where she'll record every perfect detail of her first date with longtime crush, Stuart–a brilliant young writer who is home for the summer. And where she'll admit how much she's missed her childhood best friend, Cooper, and even take some of the blame for the fight that ended their friendship.
Through a mix of heartfelt journal entries, mementos, and guest posts from friends and family, readers will fall in love with Sammie, a brave and remarkable girl who learns to live and love life fully, even though it's not the life she planned.
I've been meaning to read this for a few months, so now is the time!