On Valentine's day, I was lucky enough to win a goodybag from
Books and the City
. I had this big plan to do a video unboxing of it, but sadly there have been some technical difficulties, so I have returned back to my safe haven of blogging. Hopefully the technical issues will be fixed for possible future videos, but I can't wait any longer to show you what I received from the wonderful Sara-Jade and Team BATC. As you can see it contained lots of lovely books and goodies!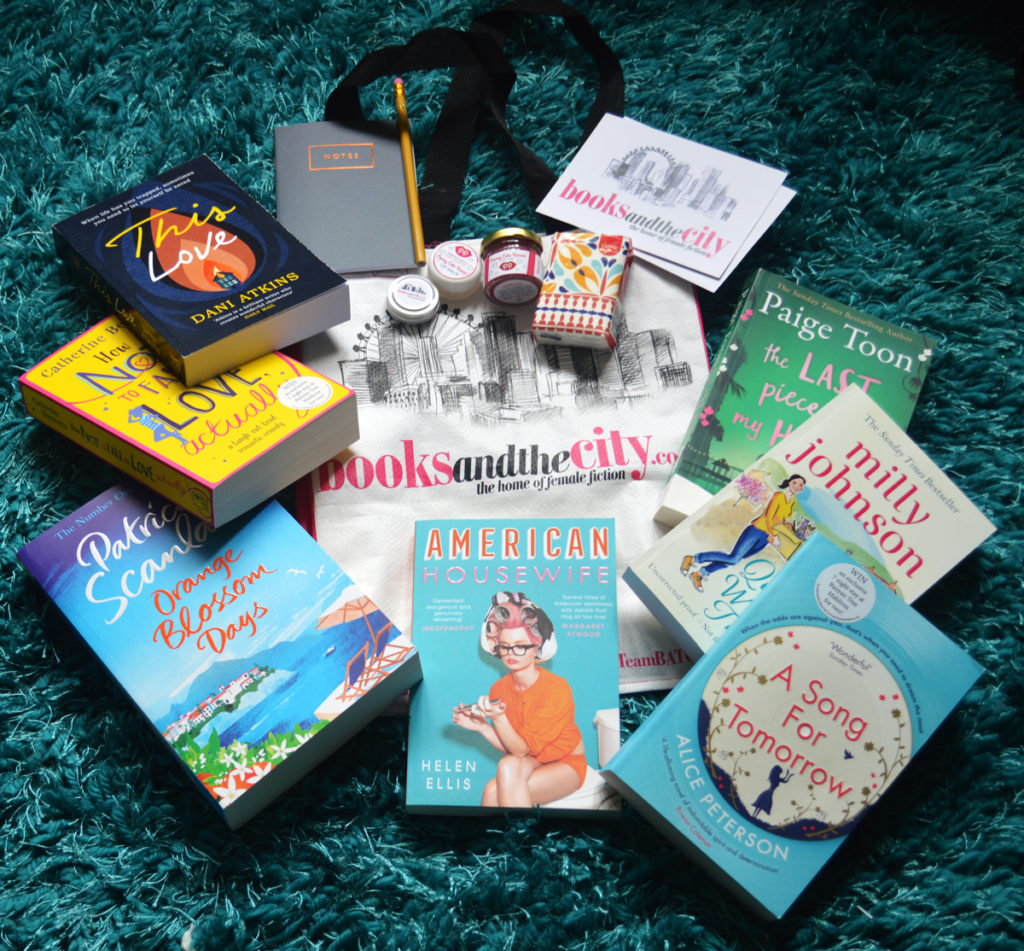 There was several little non-b0ok goodies. We have BATC branded lip balm and postcards, tissues (needed for a few of these books!), a pencil, a cute notepad and most amazingly a lip balm and lip scrub set that is flavoured 'Cherry Cola Kisses' and I am addicted to Cherry Coke, so this is perfect for me!
Now onto the beautiful books!
A Song For Tomorrow by Alice Peterson
Tom fell in love with Alice the moment he saw her. He realises that being with her will not be easy, but she is a force of nature, a burst of sunlight in his otherwise ordinary world.
Some people might look at Alice and think she has everything, but Alice knows she is not like other women. Her life is complicated, unpredictable, difficult. Alice does not like pity. All she wants to do, has ever wanted to do, is sing.
Alice has been told not to follow her dreams. So has Tom. But when fate has already dealt a tough hand, it's time to stop listening to everyone else and only follow their hearts.
I've recently read this as I was lucky enough to receive an ARC. Absolutely fantastic, I will be very surprised if this doesn't star in my top 10 books this year. It's such an inspirational and emotional book.
When Lewis Harley has a health scare in his early forties, he takes it as a wake-up call. So he and his wife Charlotte leave behind life in the fast lane and Lewis opens the antique shop he has dreamed of. Bonnie Brookland was brought up in the antiques trade and now works for the man who bought out her father's business, but she isn't happy there. So when she walks into Lew's shop, she knows this is the place for her.
As Bonnie and Lew start to work together, they soon realise that there is more to their relationship than either thought. But Bonnie is trapped in an unhappy marriage, and Lew and Charlotte have more problems than they care to admit. Each has secrets in their past which are about to be uncovered. Can they find the happiness they both deserve?
I started this last night. I'm one chapter in and I'm completely hooked.
Life is 10% planning, 10% design and 80% totally winging it… Join Emma as she guides you through How Not to become accidentally knocked up at the age of 27, How Not to unceremoniously dump the father of your child, and then How Not to lose the job that (even though you hate it) is the only thing between you and being homeless…
Hilarious and heart-warming, How Not to Fall in Love, Actually will make you laugh, make you cry, and will reassure you that perhaps your life is not that bad, actually…
I read this when I bought it on Kindle for 99p, and it was one of the best 99ps I've ever spent. Lots of fun.
In a beautiful southern Spanish town, where the sea sparkles and orange blossoms scent the air, the gates of a brand new apartment complex, La Joya deAndalucía, glide open to welcome the new owners.
Anna and Austen MacDonald, an Irish couple, are preparing to enjoy their retirement to the full. But the demands of family cause problems they have never foreseen and shake their marriage to the core.
Sally-Ann Connolly Cooper, a feisty Texan mother of two young teenagers, is reeling from her husband's infidelity. La Joya becomes a place of solace for Sally-Ann, in more ways than one.
Eduardo Sanchez, a haughty Madrileño, has set out with single-minded determination to become El Presidente of the complex's management committee. But pride comes before a fall.
Jutta Sauer Perez, a sophisticated German who aspires to own her very own apartment in La Joya, works hard to reach her goal. Then the unthinkable happens.
As their lives entwine and friendships and enmities develop, it becomes apparent that La Joya is not quite the haven they all expect it to be…
I've never read any of Patricia's books before but this one sounds interesting, and the cover makes me want to book a nice warm sunny holiday, so I can have that book in one hand and a cocktail or glass of wine in the other!
Meet the women of American Housewife…
They smoke their eyes and paint their lips. They channel Beyoncé while doing household chores. They drown their sorrows with Chanel No. 5 and host book clubs where chardonnay trumps Charles Dickens. They redecorate. And they are quietly capable of kidnapping, breaking and entering, and murder.
These women know the rules of a well-lived life: replace your tights every winter, listen to erotic audio books while you scrub the bathroom floor, serve what you want to eat at your dinner parties, and accept it: you're too old to have more than one drink and sleep through the night.
Vicious, fresh and darkly hilarious, American Housewife is a collection of stories for anyone who has ever wondered what really goes on behind the façades of the housewives of America…
This book looks to be interesting, and the short story nature means it's perfect to pick up when I have a short amount of time spare and need something swift to read!
This Love by Dani Atkins
– Released 23rd March 2017
Sophie Winter lives in a self-imposed cocoon – she's a single, thirty-one year old translator who works from home in her one bedroom flat. This isn't really the life she dreamed of, but then Sophie stopped believing in happy endings a very long time ago, when she was fifteen years old and tragedy struck her family. Her grief has left her scared of commitment and completely risk averse, so she plays it safe and keeps everyone at arm's length. Sophie understands she has a problem, but recognising it and knowing how to fix it are two entirely different things.
One night a serious fire breaks out in the flat below hers. Sophie is trapped in the burning building until a random passer-by, Ben, luckily happens to spot and rescue her. Suddenly her cocoon is shattered – what will be the consequences of this second life-changing event?
I loved Dani's last book 'Our Song' so naturally I can't wait for this one. I'm really intrigued by Sophie and this is another one for tissues I think!
Meet Bridget, a successful travel journalist with ambitions to turn her quirky relationship blog into a novel. But, after numerous rejections from publishers, she accepts an alternative proposition
Nicole Dupre died leaving behind a bestselling novel and an incomplete sequel, and the family need someone to finish it. Bridget is just thankful to have her foot in the publishing door. But as she gets to know Nicole's grieving family, and the woman behind the writing, Bridget's priorities begin to change …
OH MY GOD! If you've ever talked to me about bo0ks, I MAAAAY have mentioned that Paige Toon is my favourite author, just the once or twice you understand! I'm so excited to read this and catch up with Bridget from 'The Longest Holiday'. I'm having an inner struggle whether to dive right in, or keep it till closer to the release date, and know I have that to look forward to…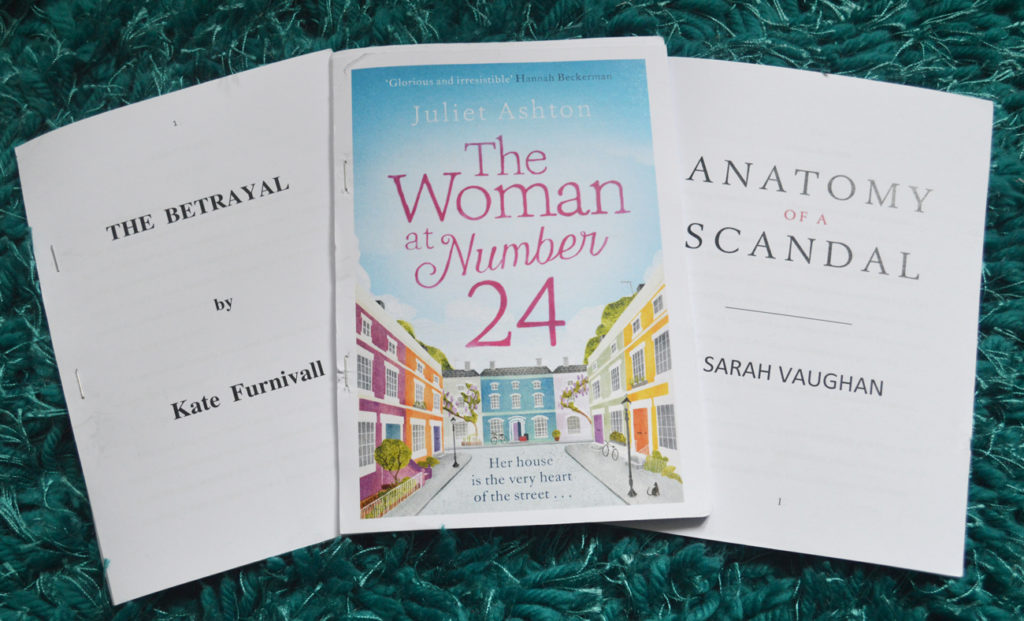 Chapter Samplers
There was three chapter samplers included of upcoming releases…
Welcome to number 24, a Georgian villa in west London that is home to five separate families and five very different lives.
Up in the eaves, Sarah finds that recovering from a nasty divorce is even more heartbreaking when your ex-husband lives one floor beneath you with his new wife. Their happiness floats up through the floorboards, taunting her. A child psychologist, Sarah has picked up great sadness from the little girl, Una, who lives with her careworn mother three floors below, but is Sarah emotionally equipped to reach out?
The Spring brings a new couple to number 24. Jane and Tom's zest for life revives the flagging house, and Sarah can't deny the instant attraction to handsome Tom. Having seen at first hand what infidelity does to people, she'll never act on it … but the air fizzes with potential.
The sunshine doesn't reach every corner of number 24, however. Elderly Mavis, tucked away in the basement, has kept the world at bay for decades. She's about to find out that she can't hide forever.
Love, rivalry, secrets and murder – all under one seemingly ordinary roof ….
I loved Juliet Ashton's last book and this one looks to be equally as good, if not better.
Could you kill someone? Someone you love?
Paris, 1938. This is the story of twin sisters divided by fierce loyalties and by a terrible secret. The drums of war are beating and France is poised, ready to fall. One sister is an aviatrix, the other is a socialite and they both have something to prove and something to hide.
I don't normally read books set in the past, but this sounds interesting and the sampler is perfect to let me see if I can expand my reading habits.
The novel centres on a marriage that begins to unravel when the husband is accused of a terrible crime. Sophie is sure her husband James is innocent and desperately tries to protect her family, but Kate, the prosecuting barrister, is certain James is guilty and determined to see him pay for his crime.
This sounds really interesting and deliciously dark, quite a wait till release though!
Thank you so much to Sara-Jade and Books and the City for this generous Goodybag!