I loved the first book in this series, and was so over the moon to be given the chance to be part of this blog tour, so thank you so much Cara at Mira/Harlequin. Check out the poster at the bottom to check out the other fantastic bloggers posts!

Synopsis
True love can be hard to find. Even when it's been right under your nose all along…
After witnessing the fallout of her parent's divorce, love has never been a priority for garden designer Frankie Cole. The only man in her life is her friend Matt–but that's strictly platonic. If only she found it easier to ignore the way he makes her heart race…
Matt Walker has loved Frankie for years but, has always played it cool. Until he uncovers new depths to the girl he's known forever, and doesn't want to wait a moment longer.
Matt knows Frankie has secrets and has buried them deep, but can he persuade her to kiss him under the Manhattan sunset?
Review
As per the first book in this series 'Sleepless in Manhattan' (now known as 'Sleepless'), this cover is incredibly beautiful. I have to admit as much as I adore the cover of 'Sleepless', this one edges it for my favourite, for one special reason. That reason being it stars a bridge which is very similar to one in Central park which is set to be my wedding ceremony venue. I've added a picture of it so you can all awe in it's beauty (or not). Anyway, obviously this holds a special place in my heart, so obviously this cover wins, even if it is less pink.
After reading 'Sleepless' earlier this year, I was eagerly awaiting the follow up books and we are treated with the second book less than 6 months later, so I was hoping for another wonderful treat from Sarah Morgan. New York is spectacularly described, which I wouldn't expect any less after reading ''Sleepless'. It adds to my own memories and emotions I connect with my favourite place on Earth. I also loved the section focused on where they grew up, Puffin Island. I've not read any of Sarah's books that are based there but this was a charming introduction and I really want to read those books soon to get to know it better.
'Sunset in Central Park' focuses on Frankie and her life. We quickly understand that she is very guarded, she hates weddings because all relationships are doomed to failure. For Frankie it's a case of relationships 'will' end, not a 'might'. 'As long as we both shall live' is merely a fairytale constructed by the romantics in life. I found this incredibly sad, and in a few moments frustrating.
I know Frankie was hurt by her past, especially her parents relationship, it clearly affected her a great deal so therefore closed herself off to people and was pessimistic about all things love. It was just so sad to see someone so despondent about love.
The frustration comes in when she denies her growing feelings for Matt. You could tell he was a great guy even in the first book, this book just expands that warm feeling. He's sensitive, kind and caring. You can tell that if he was in a relationship he was completely focused and committed and wouldn't mess around or hurt you. This time with Frankie it wasn't Matt she thought would doom the relationship, it was Frankie herself that would mess things up, and being a tad bit stubborn, she refused to believe otherwise. I realise it was due to her past issues. Matt dealt with this wonderfully, he took charge, and changed pace when needed, he was very sweet.
It was also great seeing her friends help her especially Eva. The scene where Frankie helps Eva after realising Eva had been crying was beautiful, they are polar opposites when it comes to romance, but seeing their strong friendship bond really help each other was a wonderful thing to read.
Once again we are treated to a great story that is wonderfully romantic, gives you smiles and warm fuzzy feelings, and since we get to know Eva a little better leave me asking for more, meaning book #3 is on my highly anticipated releases – is next month in time for my birthday too soon?

Published by: Mira
Gratefully received from the Publisher for review
Released 14th July 2016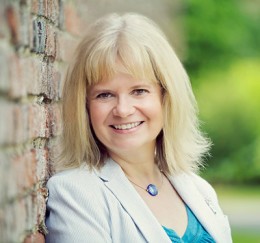 Author bio:
Sarah Morgan writes warm contemporary women's fiction with her trademark humour which has gained her fans across the globe. Sarah lives near London with her husband and children, and when she isn't reading or writing she loves being outdoors, preferably on holiday so she can forget the house needs tidying. You can visit Sarah online at
www.sarahmorgan.com
, on Facebook at
www.facebook.com/AuthorSarahMorgan
and on
Twitter
@SarahMorgan_